What You Need To Know About Cabinets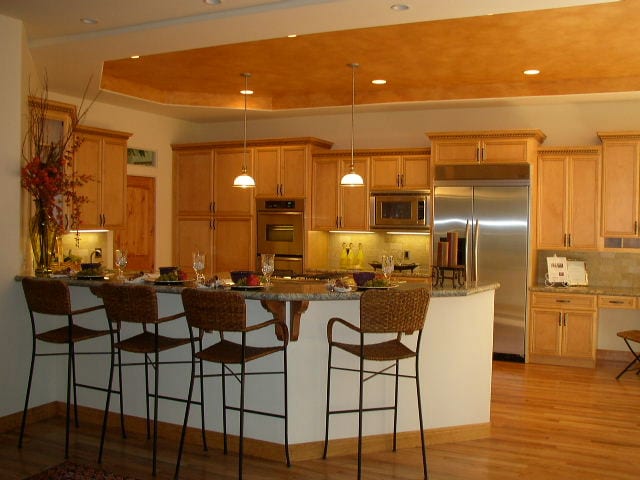 For this post, I've collaborated with Kitchen Designer, Greg Fineman of Osborne and Dermody, Sparks, Nevada. Greg has been a General Contractor and has 30 years' experience in the industry specializing in kitchen remodeling. I've always enjoyed collaborating with Greg because he takes a holistic approach to the design instead of trying to sell the most cabinets in the full space allowed. This kitchen to the left is our collaboration within a very challenging space.

Have you decided to replace your horrid tile or scratched and stained laminate counter top,  but you're trying to decide if new cabinets are worth the expense. It is a big expense and the temptation to refinish the old cabinets becomes great once the bids start rolling in. Become educated about your options first.
7 things to consider when making the decision of whether or not to replace your cabinets:
1.   How old are your current cabinets? Do they have 10 yrs. left to them? (Your new counter top will)
2.   Are the hinges exposed? This is very old school so unless you're REALLY into retro……
3.  What is the quality of the cabinet door hinges and drawer glides?  Do you have drawer glides?
4.  Are any cabinet drawer fronts or doors broken?
5.  Are the drawer boxes stapled and/or glued press-board. Or, are the drawers made of solid wood boxes with dovetail joinery at corners?
6.  Is your counter top going to be replaced?
7.  Are you happy with the configuration of your existing cabinets'? (The layout) Or do you have
wasted dead space? Most commonly found in corners.
If you are going to replace your counter tops, you might be throwing good money after bad by trying to hang on to old cabinets.  Those old cabinets with exposed hinges are not going to add value to a new kitchen. Drawer hardware should glide, not be sticky or wobbly. I can tell you from my own experience (or lack thereof at the time), once you spend money on new counters, sinks, back splash, etc., you're never going to think to replace the cabinets again. Do it properly the first time and get the most value for your investment.
My advice is, if your budget is that tight, use an inexpensive counter top for now. It's much less expensive to replace that in a year or two when you have more money saved.
All new cabinets are not created equal. When the final decision must be made, your budget may be the determinate, but I believe that an educated decision is a good decision.
The _4_ most important things to look for when shopping for your new cabinets are:
1.       Are the cabinet doors "Full Overlay" ( see photo at top). More expensive cabinets will offer doors that fit together tightly next to each other against the face of the cabinet. If there is a big space between the doors and drawers, there is considerably more dead space in the cabinet box. The smaller drawer boxes will be where you will notice this the most. If you have a minimum amount of space in a smaller kitchen, this is especially important. If you have a large space with a lot of doors, think of how that will look across the expanse with the door-space-door-space-door-space pattern.
2.       What do the drawers look like inside? The less expensive cabinets will have press-board drawers with a drawer front either screwed to it, or as the 4th side of the drawer. Those drawers do not hold up well when required to carry a lot of weight (i.e. black hole type junk drawer) or if they are slammed by little loved ones, drama queens or heavy-handed big galootes.  ( I wouldn't be referring to my  own husband of course).  For best quality and a long life, look for a drawer that has "Dovetail" style drawers.
3.       Door and drawer hardware is very important for lifetime durability and pleasurable daily use.
Full extension glides allow the drawer to pull out all the way so that the back 20-25% of the drawer is accessible. This hardware comes in the self-closing variety that has a shock absorber to guard against slamming. The hardware will actually pull the drawer back in by itself when given a shove.
4.       The finish from a semi-custom cabinet manufacturer can actually be longer lasting than finishes from a custom cabinet maker. Custom cabinets can be beautiful and I support buying local. However; you should know that the finish from a factory is a catalyzed baked on varnish which is a chemical reaction created with heat that allows superior bonding or adhesion of the finish onto the wood. This process requires huge industrial type ovens that allow the cabinet finish ( be it stain, paint or even a natural finish) to  "cure" onto the cabinets, thus giving a result that cannot be duplicated in someone's home, small shop or garage!
Did someone say accessorize? Cabinets come with the most fun gadgets today. All kinds of space saving devices are available for just about every cabinet size. If budget is no option, get them all! If your budget is modest, have your kitchen bid out without any gadgets at all. You can then start adding. The best bang for the accessory buck is the pull out shelving for your bottom cabinets. Price all extras individually in order to make the most well informed choices.
Is there something else you would like to know about cabinets? Do you have something that you can share to be helpful to other readers? Please comment below.
I believe that this recent post by Jamie Goldberg might be helpful for additional information.