7 Things to Consider Before Refinishing Your Kitchen Cabinets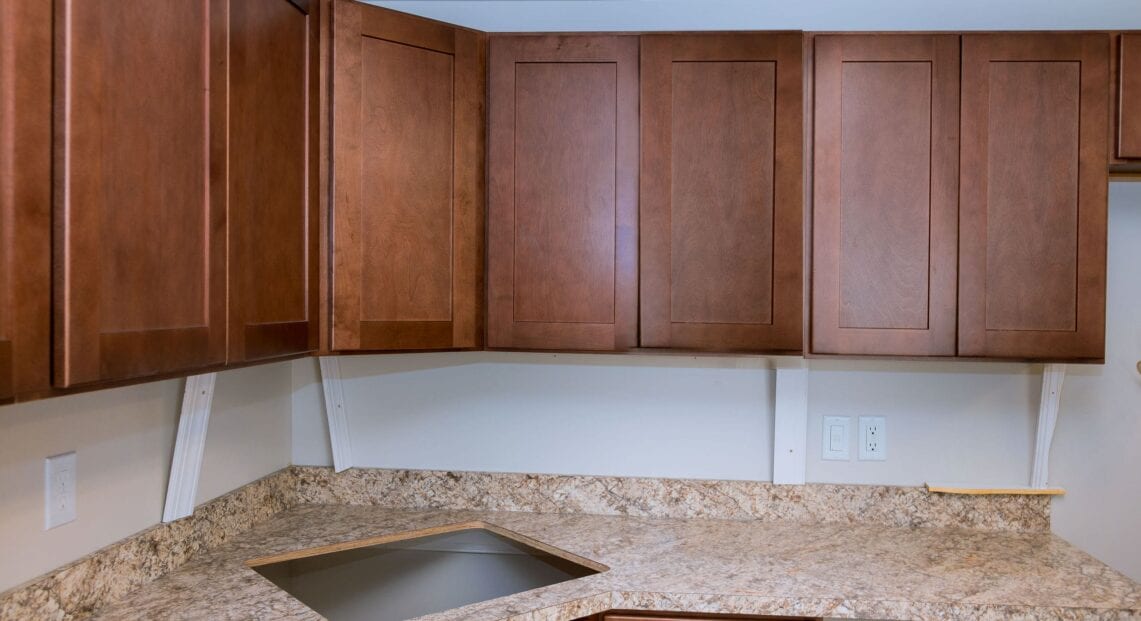 When looking at replacing an old tile or laminate counter, invariably, the question of whether or not to replace the cabinets comes into play. There are cabinet re-finishers in every town that can offer to refinish old worn face frames and cabinet doors. I've found that the cost of doing this is substantial. Doors with detail can be very expensive to refinish. Companies selling their services will make a persuasive argument about why their services are a "good deal" compared new cabinets. Sometimes this is true. Sometimes the face frames (front of the cabinet boxes) are worth saving and can be refinished. New doors and drawer faces can be purchased and then stained to match.
When making this decision I recommend the following 7 considerations before being able to determine what decision will produce the best value for your investment.
1. Are the cabinet boxes of a good quality solid wood? If the boxes are a press-board with a veneer finish, don't throw good money after bad.
2. Are your drawer's press-board with a stapled box? If so, they are not worth salvaging. One good slam and your drawer fronts will easily break off. I wouldn't keep those cabinets.
3. Do your bottom cabinets have pull out shelving, or do they have half shelves? If so, you should probably not try to save them.
4. Is the door and drawer hardware of good quality so that the doors are hung squarely and the drawers slide easily. Are the hinges the old exposed style? If you're finding any of these issues to be staring back at you when you look at your cabinets, it's time to embrace a new more modern cabinet.
5. Is the wood of good quality? Are the drawers or face frames dry and split. If so, they're gonners.
6. Does the layout of the kitchen best serve the needs of your lifestyle. Are additional cabinets needed to in order for the kitchen to serve those needs optimally? If so, they need to match. Door styles are always changing. It's improbable that new doors will match old doors exactly.
7. Are the current appliances older? New appliances may be bigger or smaller and the cabinets will need to be adjusted to those new sizes. In this case, it may become cost prohibitive to save the cabinets and pay for custom cabinetry to fill the spaces or be cut down.
I've seen many situations where a beautiful solid surface counter is put on top of old and out dated
cabinets. As the saying goes, don't put "lipstick on a pig". It doesn't fool anyone. It doesn't add to your resale value. It won't add a lot to the overall value you will get from your investment while living in your home. Save your money until you can afford to take on the entire project that will give you the most value. If you have to wait another year or two to do the project, I guarantee, it will be worth the wait. If you're thinking that adding the new counter will help for a home that needs to be put on the market, it is still unlikely that you are fooling anyone. Offer an "allowance" in your listing of what the cost of a new counter would be estimated to be. I've found that you'll get much more bang for your buck that way.
Do you have any experiences or insight regarding a beautiful new counter on top of old and tired cabinets? Please share with us.
Sometime we can better organize the space we have to avoid having to add additional cabinets. This post might be helpful: