Porcelain Tile Tips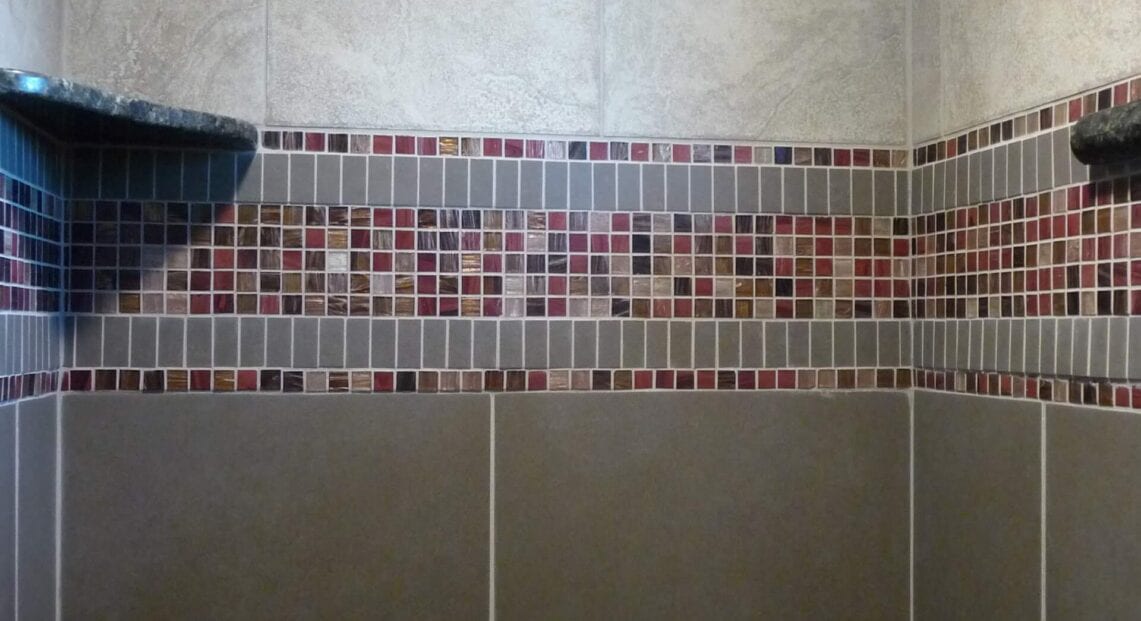 A creative design using tile is easier than ever today. The growth in the amount of  porcelain tile products now available have been a game changer for designing easily cared for beauty as well as durability. In this post, I'm not going into detail to explain the difference between Porcelain and Non-Porcelain. I'll only say that while porcelain is a very hard material, ceramic tiles are much more fragile. All porcelain tile is not alike. The difference can be seen by looking at thickness and weight. I've provided link to two good informational posts, Baneclene, a cleaning products site, as well as the Tile Council of North America, that provide  facts about differences between porcelains and ceramics as well as cleaning information. What I'd like to offer up here is product and design knowledge that will help you create the most long term value from your tile design.
Porcelain tiles have texture, or not. There are porcelains that look like metal, bamboo and wood as well as slate, travertine, and any other hard surface you can imagine. It comes in many many shapes and sizes. If you like the look of natural stone tile, you can now get that look with porcelain without having the maintenance issues that natural stone has.
While solid surface granite on a counter top is relatively maintenance free, natural stone on a floor is a big maintenance commitment. Some of the softest stones, like travertine, should never be used on a floor unless you're willing to put in a lot of time and expense for upkeep. Natural stone on a shower floor is a maintenance nightmare! Shower floor tile needs to be smaller, 4"x4"on average to allow the floor to slope the water to the drain. The smaller tiles will also be less slippery on a wet floor. Porcelain comes in sheets of smaller tile that can be used for this purpose or porcelain can be cut to size. The bigger sizes tend to run less per square foot, but by the time your tile contractor charges for the additional labor for cutting, you might break even on this deal.
Porcelain comes in a "through body" style and glazed or unglazed. The advantage of the through
body is that it can be cut and the color runs through the tile. Not all porcelain comes with an interior that is the same as the surface. If your design is going to require a visible edge, you'll want to pick a material that is the same color as on the surface, even if the pattern doesn't run through it. This becomes handy when tile is going to be used for baseboard and the edge is polished to create a finished look. The edge of porcelain can also show when wrapping around the outside of a shower or top of a back-splash. Some tile is sold with a pre-polished or "bull-nose" edge. These tiles are sold in 3-4"widths to be used as trim, but there are many applications where the 3-4"size adds an extra grout line that is unnecessary, like a countertop or tub surround.
Porcelain can also be found with a " rectified edge". This material is usually more expensive than the alternative, but allows for the smallest grout line, using an un-sanded grout.
One other little thing I'd like to share about porcelain is that I love adding an element of natural stone with it. Not  necessarily on a shower floor, but in a dry area it adds an element of natural material that will make the porcelain look so much more real.
Mosaics come in many sizes and material combinations. They are an inexpensive way to add a lot of style and zing to your tile design. They can be broken into small or larger squares or lines. I love using them as floor transitions between rooms. I've put several examples  into this post because, as they say, a picture is worth 1,000 words. Enjoy!
If there's anything that you'd like to add to this post, please comment below.